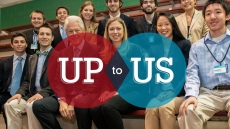 Up to Us - Fiscal Challenge
April 01, 2019
Up to Us is a program that empowers students to educate peers on our long-term national debt, how it could affect their economic opportunities, and what our generation can do to have a voice in raising awareness of our fiscal challenges!
Description
The goal

Through the annual competition, select teams from colleges and universities nation-wide receive training and funds to run tailored campus campaigns to educate their peers and inspire collective action! Prizes include $10,000 and paid trips to world-class conferences, among others.

What are the benefits of joining the Competition?

Continue the movement! By joining this cohort of emerging leaders, you can help shape the economic future our generation will ultimately inherit. Up to Us offers you the opportunity to be the voice of your generation and to create a meaningful impact on your campus community.

- Access to leadership and project management training through live trainings and at your fingertips through our Crew2030 platform means you can develop your skills when, where, and how you want!
- High impact events like our nation-wide My Two Cents Day, paired with opportunities to flex your creative arm through a custom "Wildcard" event, make executing an impactful campus campaign easier and more exciting than ever.
- Unparalleled access to thought-leaders in public policy, fiscal policy, social entrepreneurship, and more, as well as an opportunity to meet your peers and fellow emerging leaders.
- Enhanced prizes give you the chance to earn resume-building experiences and opportunities, access to cash prized, and so much more.

What is the time commitment?

Time commitment is minimal and flexible based on the impact you are hoping to create. While the time per week does change by participant/team, successful competitors should look to commit 2-4 hours a week for the duration of the competition.

Now-January 22: Confirm your participation in Campus Competition
January-March: Receive weekly leadership and campaign management training
March 1-3: Attend the Up to Us training in Oakland, CA
March 8-April 12: Host your My Two Cents Day and Wildcard Activity
April 12: Final Report due
April 2019: Top teams announced

How will campaigns be judged?

Student campaigns will be judged by competition organizers and a diverse panel. Campaigns will be scored on a variety of criteria including the success of key campaign activities and the creativity and vision behind those activities.


Eligible Schools
AMERICAN UNIVERSITY
BINGHAMTON UNIVERSITY
California State University - East Bay
Carnegie Mellon - Tepper School Of Business
Christian Brothers University, Memphis
Clark Atlanta University
Dominican University Of California
Duke - Fuqua School Of Business
Florida International University College Of Business
Florida State University
Georgetown University - McDonough School Of Business
Howard University
Mount Saint Mary University
Oklahoma State University
Rady School Of Management - University Of California San Diego
SAN FRANCISCO STATE UNIVERSITY
Santa Clara University
Texas A&M University - Central Texas
TEXAS STATE UNIVERSITY
The University Of Vermont - Grossman School Of Business
Thunderbird School Of Global Management
UC Berkeley - Haas School Of Business
University of Illinois at Chicago
University Of Miami
University of north Carolina - Charlotte
University Of South Florida
University of Texas at El Paso
University of Wyoming - College of Business
West Virginia Wesleyan College
Prize
Every student/team who competes in the Up to Us Campus Competition will receive the necessary funding to execute creative and effective campaigns. $10,000 will be awarded to the winning team in addition to cash prizes awarded to top-performing runner-up teams. All teams who successfully execute their campaigns gain access to exclusive prizes, experiences, and more.